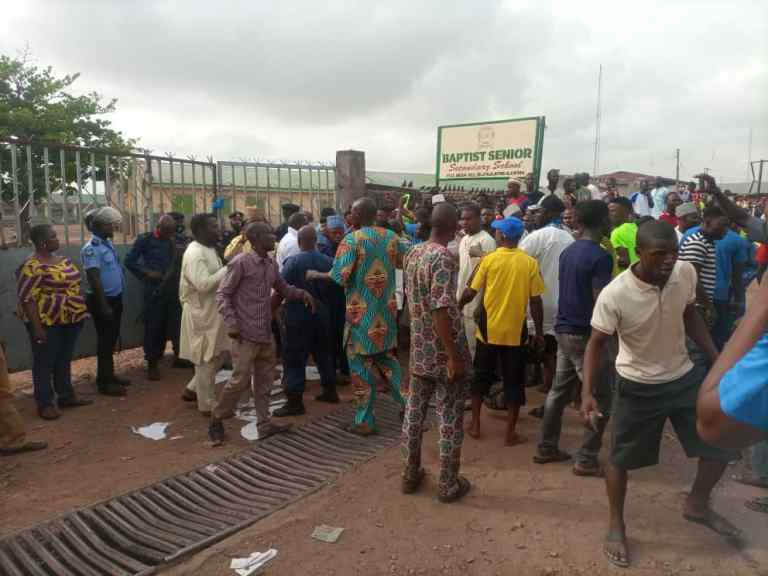 Some Nigerians have taken to Twitter to react to the violence that erupted on Wednesday in Ilorin, the Kwara State capital over the controversial policy of the state government on hijab for female Muslim students.
The violence follows the decision of the Kwara State government to reopen the grant-aided public schools on Wednesday which were initially shut down in February over the controversy surrounding the approval of hijab for female Muslim students in such schools.
The Christian community in the state had rejected the government policy, describing it as an attempt to technically Islamize the schools.
As earlier reported by Naija News, the Kwara State Government late on Tuesday night ordered the reopening of 10 mission schools shut down over the controversy surrounding the government policy on the use of hijab in such schools.
The reopening of the schools from Wednesday, March 17, 2021, was announced in a statement issued by Mrs. Mary Kemi Adeosun, Permanent Secretary, Ministry of Education and Human Capital Development.
However, the reopening resulted in a clash between Christians and Muslim faithful which occurred at First Baptist Church, Surulere which houses the Baptist Secondary School.
The development has attracted reactions from Twitter users. Below are some of their comments.
Is it crime to say No Hijabs in Christians Missionaries Schools, Kwara? Why can't they both agree with the norm by using beret?pic.twitter.com/dsRJS0ucn8

— Ayemojubar (@ayemojubar) March 17, 2021
Dear Yoruba Muslim in Kwara State, If your Children weren't allowed to use Hijab in Missionary Schools. Eject your Children and Enrol them in Schools that Accept Hijab. Instead of causing Chaos. Embrace Peace. Don't allow Fulani to turn against Yoruba Christians, we are one

— Yoruba Nation (@OdudwaRepublic) March 17, 2021
Why will Kwara Government insist on wearing of Hijab to Christian schools whereas CRK and Christian prayer cannot be done in Muslims school.
Christians do not need to be marginalized and their rights trampled on.#cryptocurrency #efcc
Lagos USSD iniesta Nigerrepublic pic.twitter.com/GDklk9JPYK

— socialbizworld (@socialbizworld1) March 17, 2021
They imposed a religious fanatic as governor of Kwara because they hated anything that has to do with Saraki

Now there is a religious crisis going on in Kwara, the governor cant manage it and those that shouted O To Ge in 2019 are currently silent
pic.twitter.com/DhRhYed4Se

— BabaTee of Akure (@TheBabaTee) March 17, 2021
The Kwara state governor will end up igniting Religious crisis in Kwara state.

Is this the Otoge you people were shouting for?

— DEMAGOGUE PhD.senior advocat (@von_Bismack) March 17, 2021
Kwara State govt should do the needful on the controversies concerning Hijab for schools in Ilorin. Hijab should be allowed for Muslim students and not imposed on Christian students… Simple!! Islamic scholars should ALWAYS ring the bell of no compulsion in Islam.

— Communicator (@DE_COMMUNICATOR) March 17, 2021
Nothing stops us from living together as a people. Hijaab should not divide us. We should not burn the state for whatever reason. Kwara Beware. Let's embrace pluralism. Let's live and let others live! Support the @followKWSG to secure the state. pic.twitter.com/PeYq6sZZqO

— EGGHEAD (@egghead_1995) March 17, 2021
I am not surprised with what is going on in Kwara State. That is an outcome of having a mediocre as Governor. The State that has been governed peacefully by PDP for years is now facing religious crisis in less than two years of APC administration. Sigh

— Premier (@SodiqTade) March 17, 2021
This religious misunderstanding is getting out of hands in Kwara State. This is Surulere FGS, why throwing stones at each other?
pic.twitter.com/NHqwh2cgMR

— Hashtag LFC IGWE OF LIVERPOOL (@hashtag2weet) March 17, 2021
When @bukolasaraki held sway in Kwara state,there was peaceful coexistent between the major religions,now,l am hearing of closing of mission schools.
I believe those schools didn't just start in 2019.@FrEvaristus

— chijiоke, Ph.D., Nuclear Engineering(Affidavit). (@Ekwulu) March 17, 2021
Truly brother, because this one happening in Kwara state can be avoided by both parents and government.
There are other govt schools that aren't missionary and allow pupils to use hijab and in fact operate Islamically, just enrol your ward in such govt schs.
That simple! https://t.co/KXxrrrdAh5

— Isa Abass Usman (@enitan_12) March 17, 2021